Hi, last week I introduced you to the metal detecting and everything related to it such as dos and don'ts, where to detect, how to detect … So I will tell you in this article about all the hardware pertaining to detection and I'll give you my opinion about each item. Also, a few weeks ago, I introduced you to the three best metal detectors in the article of the same name The 3 best metal detectors. So I won't go over these three detectors too much. Also, if you want to know more about these funds, click on the article link. Now let's get to the heart of the matter. Good reading.
(All links are affiliate links and will redirect you to Amazon.fr. Affiliates mean that if you buy an item through these links I earn a small commission).
The detector
First, I'll start with the most important tool : the detector. It is important to choose it well because your findings will result directly from your choice. Also, choose the detector in relation to the environment where you are going. If you detect in an aquatic environment, be careful to choose a waterproof detector.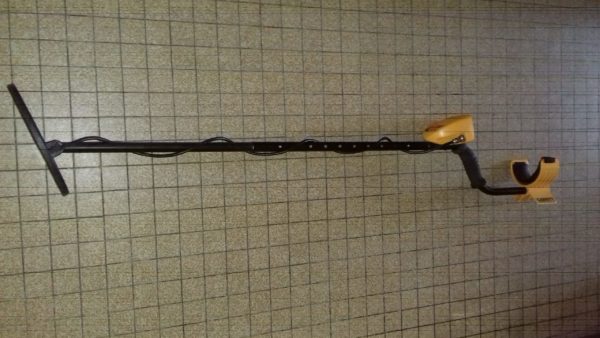 Here is a selection of detectors
The Garrett ACE 150
This detector is ideal for beginners. However, I do not recommend it because its performance is rather limited. Especially from the point of view of depth; it does not detect very deep.
Link : Garrett ACE 150
The Garrett ACE 250
Personally, this is the detector I was using when I practice metal detecting. It's perfect for beginners and very easy to use. Unfortunately there too, it lacks a little depth at times.
Link : https://amzn.to/3nMwRZj
The Garrett ACE 300 i
This detector is a good alternative between the 250 and the 400. It is in the middle of the two.
Link : https://amzn.to/3jUA8Dq
The Garrett ACE 400 i
This one is similar to the 250. On the other hand, thanks to its large head, it can detect a larger area and in terms of performance, it is better than the 250. And above all, it has greater depth.
Link : https://amzn.to/3lKX9JM
The XP Deus
In my opinion it is the best detector in its class. It offers great performance both in terms of settings and depth and is also one of the lightest detectors (this may seem futile but you will tire out much less quickly). Unfortunately, its price is rather high.
Link : https://amzn.to/3nLJZ0L
The XP Adventis
This detector is similar to the Deus. However, these performances are less interesting than the Deus. As well as its handling. On the other hand, this is compensated by a price much lower than that of the previous detector.
The Teknetics Eurotek Pro
This detector has capacities very close to the Garrett ACE 400. However, it has many more settings than the latter. It can become awkward if you don't know how to fix them.
Link : https://amzn.to/34Y3QB8
For metal detectors, if you are a beginner, I will recommend the Garrett ACE 250 or even the 300i or the 400 i, depending on your budget. And if you're already experienced, an XP Deus will stay the best.
The pointer
Now I will briefly tell you about a tool that may come in handy but that I personally don't use. I have used it on rare occasions and was not very convinced. This is the pointer. This tool allows you to locate the object with precision which can be advantageous. But I find that it is better to put the money invested in the pointer rather than in the detector. However, if you're interested, here are a few copies:
Entry level : https://amzn.to/30YtaWH
Mid-range : https://amzn.to/3143Z4T
Top of the line: https://amzn.to/3lIrLLU
The tool for digging
Now that you have something to detect, let's see what to use to dig. Here you can take whatever you want. For my part, I use a gardening tool bought in a supermarket. Over time, I have seen that detectives use all kinds of different tools. However, there is a widely used shovel. There she is :
Link : https://amzn.to/3nOslcE
The BSRPFG Draper excavator. This excavator is small and strong and will serve you for a long time. In addition, it can fit in a big bag.
Which tool you use depends on you and your desires. Besides, this is the one I use.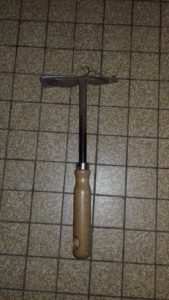 It's just a little pickaxe for the garden.
The bag
Then, to transport all the equipment, you will need a bag. This can be useful if you have to walk for a little while. Here, too, there is no need to buy a bag specifically for the detection. If you already have a hiking bag, for example, you can use it very well. Just make sure everything fits before you go. Anyway, for example you have the bag from Garrett that meets the criteria.
Link : https://amzn.to/3lDdSyg
In the end, for detection you really need a detector and a digging tool and sometimes a backpack. But for the latter, you can do without. From a budget point of view, if you are a beginner, it will cost around $ 320 for a detector like the Garrett 300i and for the tool you don't normally need to buy one on purpose. In general, people have what it takes in their homes.
Gold panning
Also, there is one activity that many detectorists practice, and that is gold mining. Please note, once again, this activity is regulated and not being a representative of the law, I invite you to find out for yourself about it. Anyway, this hobby consists of looking for gold in rivers by "washing" the gravel, sands … Obviously, you will not find anything to make a fortune especially in France, but you will surely find some glitter. In addition and like the detection, it allows you to ventilate and cool you especially in summer.
Equipment
To practice this activity, you will need a beat, a sieve and a pipette to suck up the glitter.
Gold panning kit: this kit contains all the necessary equipment for gold panning when you start.
Link : https://amzn.to/2GZvxkP
For the more experienced, you can use a sluice or wash ramp to "wash" more gravel. However, this material is more expensive than a simple kit and I do not recommend it if you are a beginner.
Sluice
Link : https://amzn.to/3nJP21D
This article is now complete. To sum up, I advise you for the detection to budget a little over 300 € and especially to concentrate on the detector. Don't worry, you can buy the material later. As far as gold panning is concerned, I advise you to buy the kit first. For the sluice, only buy it if you are really interested in it. Finally, do not hesitate to tell me in the comments space if you are doing gold mining and / or mining and what equipment you are using. In next week's article, I will give you a full overview of my two books. See you next week !
To receive my free book Around the Roman Coin click here